Posts for tag: dental exam
By Bruce E. Hanley DDS
April 06, 2019
Accidents happen, especially to teenagers involved with sports or similar activities. In an instant they can lose one or more teeth and permanently alter their smile.
Fortunately we can restore a teenager's lost teeth, but often not immediately as a permanent restoration with a dental implant requires maturity of their jaw structure. Our focus then turns to the age of the patient and the condition of the underlying bone. A future dental implant, your best choice for tooth replacement, depends on bone for support, but also the age of the patient as it relates to jaw development.
There are a couple of ways an accidental tooth loss can harm supporting bone: first and foremost, the impact of the accident itself can damage the bony socket. To find out for sure we may need to perform a cone beam scan, a type of x-ray that allows us to view the area three-dimensionally. If we do find damage, we can attempt to repair the socket through bone grafting.
Bone can also suffer from the long-term absence of a tooth. Bone has a growth cycle in which older cells dissolve and new ones form to take their place. The force generated by teeth when we eat or chew helps stimulate this growth. Without stimulation, as with a missing tooth, the bone may not grow at a healthy rate. In time, it could lose some of its volume and density and not be able to support an implant.
Installing an implant right after tooth loss could help avoid this situation. Bone has a natural affinity with the titanium post imbedded in the jaw and will naturally grow and adhere to it. But we can't place an implant with a teenager. This is because the jaw is still developing so an implant would gradually become misaligned as the jaw grows. It's best to install an implant later after full jaw development in early adulthood.
Today, we can place a bone graft in the empty socket right after tooth loss. The graft serves as a scaffold for bone cells to grow on and will help keep the bone volume at a healthy level until we can install an implant.
Timing is everything in restoring a teenager's accidental tooth loss. But with coordination and care for the supporting bone, a teenager can eventually enter their adult years with their smile intact.
If you would like more information on restoring your teenager's smile after tooth loss, please contact us or schedule an appointment for a consultation. You can also learn more about this topic by reading the Dear Doctor magazine article "Dental Implants for Teenagers."
By Bruce E. Hanley DDS
July 10, 2018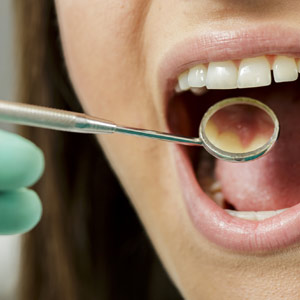 Most everyone knows that going to see your dentist for regular checkups and cleanings can help save your smile — but did you ever stop to think that it just might save your life?
That's what recently happened to 11-year-old Journee Woodard of Edmond, Oklahoma. The young girl was having a routine teeth cleaning when hygienist Rachel Stroble noticed something unusual: The whites of her eyes (her sclera) had a distinctly yellow tint. Dr. Michael Chandler, Journee's dentist, confirmed the hygienist's suspicions, and advised her mom to take her for further testing. The tests revealed that Journee had a tumor covering parts of her pancreas, gallbladder and liver; it could have ruptured at any moment, with devastating consequences.
The tumor was removed three days later in a 9-hour operation, and Journee is now recovering. As for her dentist, Dr. Chandler told reporters that he and his staff were just doing their jobs thoroughly. "It's hard to feel like I'm a hero," he said (though others might disagree).
Is this a one-in-a-million case? Maybe — yet for many people, a family dentist may be the health care professional who is seen more often than any other. That can put dentists in the unique position of being able to closely monitor not only a person's oral health, but also their overall health.
There are several reasons why that's so. One is that most systemic diseases (such as diabetes, leukemia, and heart disease, for example) can have oral manifestations — that is, symptoms that show up in the mouth. If your dentist notices something unusual, further testing may be recommended. Dentists also regularly screen for diseases specific to the mouth — such as oral cancer, which has a much better chance of being cured when it is caught at an early stage.
But beyond checking for particular diseases, dentists often notice other things that may indicate a health issue. For example, if you complain of dry mouth or snoring, and appear fatigued in the dental chair, your dentist may suspect undiagnosed sleep apnea: a potentially serious condition. Many other signs — such as yellowed eyes, a pounding heart rate, or shortness of breath — can indicate potential problems.
Of course, we're not even mentioning the main reason for regular dental checkups — keeping your smile healthy and bright; for many people that's reason enough. How does Journee's mom feel about keeping dental appointments? "I will never miss another dentist appointment," she told reporters. "I will never reschedule."
If you would like more information about routine dental checkups, please contact us or schedule an appointment. You can learn more by reading the Dear Doctor magazine articles "The Dental Hygiene Visit" and "Good Oral Health Leads to Better Health Overall."